The History of newspapers is arguably one of the most dramatic episodes of human experience. The actual origin of newspapers lies in the Renaissance Europe when local merchants used to distribute handwritten newsletters amongst each other. However it was not until the late 1400's when Germany introduced the precursors of printed newspapers. Since then newspapers have evolved dramatically and today there are more than 6580 daily newspapers in the World.  A typical modern day newspaper is filled with various materials like editor's columns,
newspaper display ads, forecasts, comic strips, entertainment section and much more. Unfortunately the sudden economic downturn has also seen the rise of electronic or web-based versions of newspaper journals which automatically resulted in a decline in newspaper classified advertising and circulation.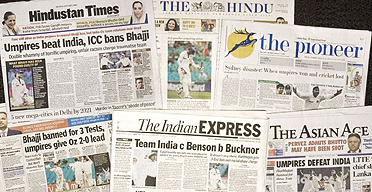 Indian Newspapers: History & Origin[/caption]
Since then many newspapers have been introduced out of which newspapers dailies like  Times of India, The Telegraph, Hindu, Hindustan Times, The Statesman, Economic Times, Anadabazar Patrika, The Tribune etc have become the highest circulated newspapers of the country.