Booking Newspaper classified advertisements for The Hindu,a highly esteemed  English broadsheet in South  India is now a few clicks away courtesy  releaseMyAd.com. The Internet if used properly serves as a comprehensive knowledge base. releaseMyAd.com is pioneering diversified applications of Internet in regular life by giving you a chance to book  advertisements for Hindu (classified text & classified display) absolutely hassle free from almost anywhere (well anywhere with a net connection).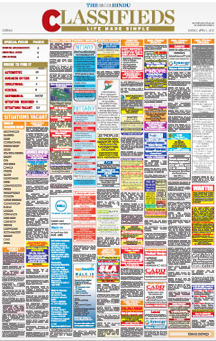 This is a boon for the one's who cannot physically book their ads (means coming down to the newspaper office,classified agent's office). Now you can place a Hindu Ad for the matrimonial section instantly. Property and recruitment advertisers now have the option of placing their ads in any of the editions required.
The rates are as per the advertisement rate card of The Hindu along with exclusive web-only offers providing additional discounts and offers! You can check out our rates & offers section for further details.You might phrase releaseMyAd.com as a one stop site for booking Hindu classified ads via the internet. releaseMyAd.com gives you the scope of availing web only packages in addition to the publication discounts/offers.
Compose your own Ad on releaseMyAd.com.For Classified text ads select from sample texts to compose your ad.Choose your  colour,font,design&layout if you are placing a Classified Display ad.releaseMyAd.com also helps in tracking your advertisements via regular sms and email updates. For further assistance you can live-chat with our customer relations executive or avail phone support.
Why depend when self dependence is an option?
Book your ad in 3 steps.
Step2-Compose the ad.
Step3-Make payment(Credit/Debit cards,net banking,cheque,cash,NEFT transfer).
To check out all the available  packages visit our Rates & Offer page.
Should you have any further queries visit our FAQ section.
About Hindu:
It has the 3rd highest readership(5.2million) according to Indian Readership Survey(IRS).It is a Chennai based newspaper with a circulation of over 1.45 million.It has the distinction of being the first Indian newspaper to have an online edition.
Hindu classifieds,Coimbatore
Hindu classifieds,Hyderabad
Hindu classifieds,Kochi
Hindu classifieds,Kolkata
Hindu classifieds,Madurai
Hindu classifieds,Mangalore
Hindu classifieds,Thiruvananthapuram
Hindu classifieds,Tiruchirapalli
Hindu classifieds,Vijaywada
Hindu classifieds,Vishakhapatnam
About ReleaseMyAd.com
We are fully accredited by the Indian Newspaper Society (I.N.S.) – the primary governing body for all media publications. We enjoy Full Accreditation recognition from the I.N.S. – an honour only allocated to select few advertising agencies across India. Further, we are the only fully accredited I.N.S. Agency which specializes in accepting classified Ad bookings from the internet.
You can book your Newspaper Ad instantly for any category such as Matrimonial, Property, Recruitment, Automobile, Travel etc. We accept both online and offline payments for advertisement bookings.